difference between inverter and battery charger?
Views: 12 Author: weili Publish Time: 2022-08-18 Origin: Site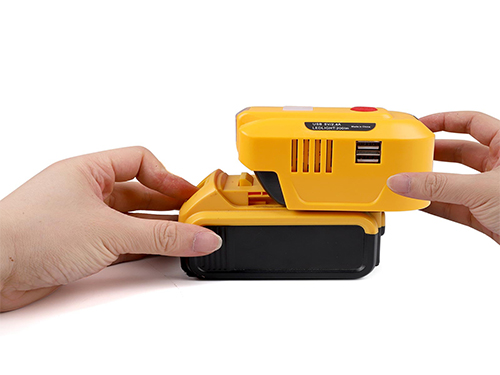 The charger converts the mains power to DC to charge the animal battery, and the inverter converts the DC (battery) power to AC power, which is then passed to the connected equipment. An inverter and a charger do the same thing, except it connects to AC power to continuously charge the connected battery when AC mains is available. In the event of a power outage, the inverter automatically switches to battery power to power connected equipment.
150W power inverter for DeWalt 18v/20V Li-ion battery, portable inverter to convert DC 20V to AC 110V, with AC output and dual USB output, with Dewalt 18/20V tool battery, can be used as a small Use emergency power. Can be widely used in outdoor and indoor emergency lighting, low-power electrical power supply. Convenient and compact, easy to carry, and cost-effective. Maximize the utilization of the original power tool battery and provide a more convenient lifestyle for families with tool batteries.
With this DC to AC battery modified sine wave power inverter, you could get full used of DEWALT 18V 20V Li-ion battery when they are idle. Just a portable power inverter station by 18 volt batteries for camping, hiking, traveling and so on. Great gadget for outdoor power solution, super lightweight.
INSTRUCTION GUID:
1.Insert dewalt 18V 20V battery into the powersupply correctly.
2. Press White button for 0.5s to turn on thepower supply, then you can use USB and110V AC output port for devices' charging.
3.The Red button is light control andthere're 2 levels of brightness.
4. When finished, turn off the power supply,disconnect your devices and remove batterypack.
Details of original DeWalt inverters

Get serious household power on-the-go with the DeWALT DXAEPI1000 1000 Watt Power Inverter with USB and Digital Display. Ideal for camping, tailgating parties or heavy-duty work on the jobsite, the power inverter provides enough power for many small tools and a wide variety of popular appliances; all by using your vehicle's existing battery system. The power inverter can also be plugged into any 12V DC outlet to deliver up to 140 watts of continuous power. With the LCD screen, you can keep a close eye on your battery's real-time status, including power consumption, battery levels, and any fault issues.
Delivers 1000 watts of easy household power on-the-go
Power inverter features dual 120V AC outlets and triple USB ports for charging multiple devices at once
Backlit LED display shows wattage and other indicators at a glance
Integrated low-voltage cutoff to preserve your vehicle's battery
1-year limited manufacturer's warranty
Portable power inverter includes a 12V DC connector and battery clamps
Measures 4.7 x 12.4 in.
related Knowledge:Ryobi Power Battery Inverter charger 18V 150 Watt for Lithium Battery ABP1801 ABP1803 BPP-1813 BPP-1815
The function introduction of Dewalt 20V Battery Inverter
Hot Tags: ryobi battery inverter,ryobi 18v batteries,ryobi 36v batteries inverter,ryobi battery tools,ryobi lithium 18v battery inverter,ryobi 12v battery,ryobi 40v lithium battery, ryobi batteries with charger,ryobi battery,ryobi 18v batteries adapter, ryobi 40v battery adapter,ryobi 12v battery inverter.