The function introduction of Dewalt 20V Battery Inverter
Views: 18 Author: weili Publish Time: 2022-08-10 Origin: Site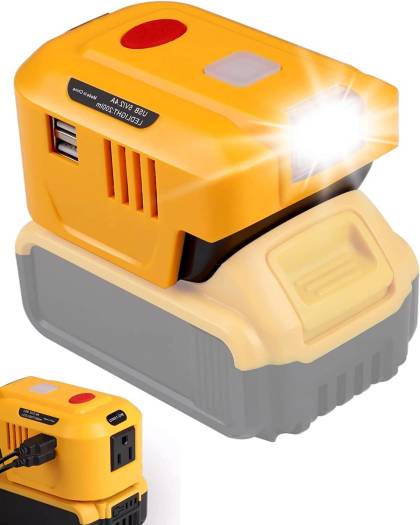 【Compatible】Replace car power inverter,Suitable for DeWalt 20V Lithium Batteries, such as DCB201 DCB200 DCB208 DCB206 DCB206-2 DCB204 DCB203 etc., turns for DeWalt batteries into small generators.
【LED Lights and USB】This inverter comes with 2 USB ports and a 200 lumens LED light, you can charge your mobile phone in emergency, as well as emergency lighting for power failure, or outdoor camping lighting, etc.
【110V(120v) DC output port】The output voltage of this small generator adapter is 110V, 150W, compatible with small electronics, such as cell phones, tablets, laptops, radios, small fans and led lights etc.DC to AC charger.Replace car power inverter.
【Safety and security】This battery inverter is equipped with a small fan and a fuse to increase the heat dissipation function to prevent high temperature and short circuit conditions when the inverter is working. The flashing red light is a low battery reminder (warning: the inverter cannot battery charging, output only)

【 Safety Warning】 . Do not expose to the rain; . Do not use if power supply or battery pack is damaged in any way; · Do not overload the power supply's capacity, if exceed the wattage/amperage capacity may damage the power supply as well as connected devices; Do not use this power supply for emergency medical equipment or life support devices; · Do not exceed the load rating of the poverheating, fire, electrical shock or injury.

Hot Tags:manufacturers,China,suppliers,factory,made in China,for sale,wholesale,buy,Customized,in stock,Bulk, Free Sample 、

cheap,discount,low price,buy discount,price,Pricelist ,quotation